Dedicated Cloud Server
Your Applications Need Full Performance
---
Integrated Cloud Features
Conventional dedicated server combined with cloud features. Enhance overall usage experience.
Dedicated Resources
Virtualized server equipped with dedicated CPU, RAM, and storage Choice of Storage
you can choose between dedicated local storage or distributed storage.
Note: Failover is only available on distributed storage allows full hardware performance.
Snapshot Capability
Preserve the state of entire server including memory onto your own storage. Rollback to the same state at anytime.
Attach Block Storage
Attach SSD-based block storage Block Storage
SSD-cached Ceph distributed storage, up to 10TB per single drive to your server as additional drives, usually use as backup or database drive.
Nested Virtualization Capability
Hardware-assisted Virtualization Nested Virtualization
allows to run VM inside virtualized dedicated cloud server. This is useful when establish testing or development environment enabled, allow you to run multiple VMs within your dedicated hardware.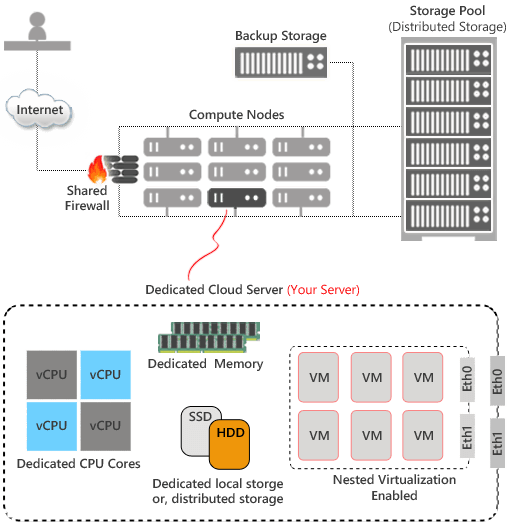 Products / Services Advice
Contact us at [email protected], we will help you to identify best solution for your business.
Dedicated Cloud Plans & Pricing
Dedicated Resources Cloud Server | Run Applications in Full Performance
---
Important Note:
* Game Server, Torrent, P2P, or Streaming Server is NOT allowed to host on above server plans.
* The selected server specification includes a bandwidth of 1TB at 100Mbps. Once the 1TB limit is reached, the speed will be capped at 10Mbps. There will be no suspension for exceeding the allocated bandwidth. Indicated bandwidth is shared 100Mbps and on best effort basis. Standard bandwidth come with 90% local / 10% international mixed.